Posted by Virginia Evangelou
You teach regularly at the alternative holiday centre, Skyros, in Greece, and are just about to start another season. Can you describe to someone who hasn't been on a holiday like this what they are like. I would imagine they are not for those who just want to lie on a beach all day! What kind of activities do you do? Do you have to take part in everything?
An Alternative Holiday is exactly that – an alternative to the typical, regular 2 week package deal. All the familiar things are available – fabulous location, delicious food sun, sea etc… but there are many additional extras. At Skyros, there is a sense of community and belonging – something becoming increasingly rare in society.
According to founder Dina Glouberman: Skyros is a total living experience. It was Europe's first centre of this kind, bringing together personal development with the creation of community. In addition to catering to every physical need in a beautiful environment, there is an outstanding selection of over 250 courses on offer throughout the season. Skyros attracts some of the best teachers in their field, and the courses range from abseiling to yoga, dance, psychotherapy, mosaic, outdoor adventure, art, massage and numerous forms of bodywork, writing, music, spirituality, theatre – the list is endless. There is, quite literally, something for everyone.
On arrival, it can be a little overwhelming to discover all the activities available. However, this is first and foremost, a holiday. People are encouraged to do as much or as little as they choose. Up to 3 courses a day can be selected, but you can just take one and relax on the beach, or go exploring for the rest of the day. There are always evening activities, either arranged or spontaneous, or you can have an early night in time to get up for some gentle early morning Tai Chi and meditation. Although the holiday has structure, you ultimately decide how much, or how little, you want to participate.
What about cost? Does all this enjoyment come at a premium?
he cost varies depending on the time you go. Included are all meals at Atsitsa (the location on the coast) and 2 meals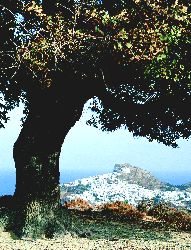 daily at the Skyros Centre (located in the town.) Accommodation at Atsitsa is either in rooms, or bamboo huts in the pine forest close to the sea, which are always very popular and add to the whole experience.
At the Centre, guests can choose from modern or traditional rooms located centrally, and can enjoy being integrated into village life and experiencing local cuisine, shopping and entertainment. Regular and herbal teas, coffees, and drinking chocolate are available 24 hours a day. And all courses are included in the price.
Not included are airfares and transfers, but these can be arranged so you are taken care of the moment you step off the plane in Athens.
Can you just go on a holiday like this to relax and enjoy doing fun activities or does it go deeper than that? For example, if someone is having a hard time personally, wants some therapy, has split up with their partner etc… Would it suit them? Where is the line between therapy, enjoyment and community?
Firstly, yes, I believe most people go on this kind of holiday to relax and have fun. At least initially. Everyone has issues they are dealing with to some extent or another. Skyros has a special quality which not only permits but encourages people to at least acknowledge where they are personally; how they really feel. Certain activities such as oekos groups can help and support individuals in a safe, comfortable space. (Oekos is a daily meeting of about 8 people who come together to listen, talk and be heard without judgement. Many groups continue to meet regularly long after they return home. )
Another such haven is co-listening, where 2 people meet at an arranged time as often as they feel they want to – daily or every few days. The objective is to talk about what is really going on for you in a completely honest and non-judgemental space, with no comments or advice from your partner. We very rarely get the chance to really be heard and this is a very special and worthwhile activity. Of course they are both optional as with everything else.
Although personal psychotherapy or counselling is not specifically offered, there are always several members of staff who can offer help or advice in seeking the appropriate care, or be available to just listen. Skyros is primarily a holiday centre, not a counselling or psychotherapy centre, but people dealing or recovering with personal issues will be supported.
What kind of people go on these holidays? Is it mostly single people, couples or families? Do you find people have a certain agenda or goal when they arrive?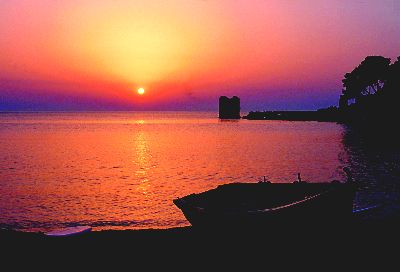 I don't believe there is a particular type, however the majority or participants obviously want more than the average Club Med vacation. Ages vary from 5 to very mature, but the majority are in their 30's to 50's. Many are single or travelling on their own, but there are always a few couples – either arriving or leaving that way – and families tend to come during the school holidays, when excellent childcare is available during course times.
With regards to goals and agendas, first-timers often have very little idea of what to expect – they have probably never experienced anything quite like it. Some may possibly have an idea about which courses they want to take – some people book specific sessions for this reason. Skyros has a way of changing peoples' ideas and belief systems – or at least encourages them to look at things with a fresh perspective. Most people return home with a different view of life or themselves; even if it's only very subtle, the change is there.
How close is the Skyros Centre to the local communities? How do the locals see the centre
s previously mentioned, there are 2 centres on the island of Skyros. Atsistsa is about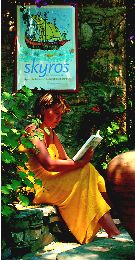 20 - 25 minutes drive from the town, located in a pine forest, surrounded by olive groves and wilderness, on the spectacular north-west coastline. It is quite remote and offers privacy to its inhabitants and few local residents. The Centre is right in the middle of town, nestled amidst the traditional white cube-shaped houses typical of this region. It is minutes away from local restaurants, shops, and bars. There are a couple of discos and even an Internet café. The Greeks like this island because it is protected from mass tourism and high-rise hotels.
In the early days, the Centre was regarded with much curiosity by the locals, however with the onset of tourism, the media etc… they appear to accept and even enjoy the foreign visitors to their island. A few of the local people even teach courses such as Greek lessons, Tavli ( Backgammon) woodcarving, ceramics and Greek cooking.
For someone who is interested in this kind of holiday, how can they find the best holiday to suit. Is there any way of judging good providers?
Word of mouth is always a reliable source, for example, 25-30% of people during any Skyros session are returning for at least the second time, many come every year or so. I feel experience in providing this type of holiday goes a long way, and may be the best choice for a first-time alternative holiday-maker. Magazines such as Kindred Spirit advertise many such vacations, but get the brochure and read it thoroughly – from personal experience I have found that a flashy advert in a good magazine can bring forth a really sub-standard brochure in the mail!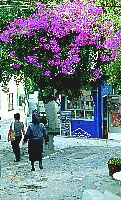 A few questions to ask yourself might be:
1. What do I really want from this holiday?
2. Will all my basic needs be met?
3. How well organized is the company – the brochure, the website, the initial phone call? Were all my questions answered thoroughly?
4. Do I get the impression it is good value for money, especially regarding meal arrangements, type of accommodation, experience of teachers/course leaders?
5. Do I need to make my own travel arrangements to the centre of is it taken care of?
A good place to start is with the Neals Yard Agency Events Guide which can found at www.nealsyardholidays.com.
There are also books about retreats and alternative centres readily available at bookshops or through Amazon and other online bookshops, and numerous websites, such as Retreats Online. Website: www.retreatsonline.com.
I know you have experience of a number of holiday destinations such as Skyros. How does Skyros compare? Who would you say are your top 3 providers of holidays such as these?
I have only worked with Skyros, but make a point of collecting the brochures for, and asking other teachers about their experiences with other centres. Without bias, I have to say that Skyros comes out on top every time, but then this is to be expected with 22 years experience.
Another name that pops up regularly is Cortijo Romero, in Orgiva, Spain. A smaller concern catering to a maximum of 24 guests.
Huzur Vadisi in Lycia, Turkey is also a popular destination, again catering for up to 20 people.
Here's some ideas for Holistic Retreats and Holidays
Skyros
Website: www.skyros.com
Retreats Online
www.retreatsonline.com
Cortijo Romero
Website: www.cortijo-romero.co.uk
Huzur Vadisi
Website: www.huzurvadisi.com
© holisticshop 2000. All rights reserved